Join us on the first butterfly walk of the year on Sunday, March 31 at 1:00 PM to look for the Brown Elfin at Occoneechee Mountain State Park in Hillsborough, NC.
"Limited Time Only" (LTO) is an unofficial term I use to describe those butterflies that typically have one brood per year and a brief flight period ranging from 2-3 weeks to 1-2 months. While there are numerous such butterflies in the Carolinas, this post will feature some of the butterflies that can be observed within the Orange and Durham County areas in the earliest part of spring.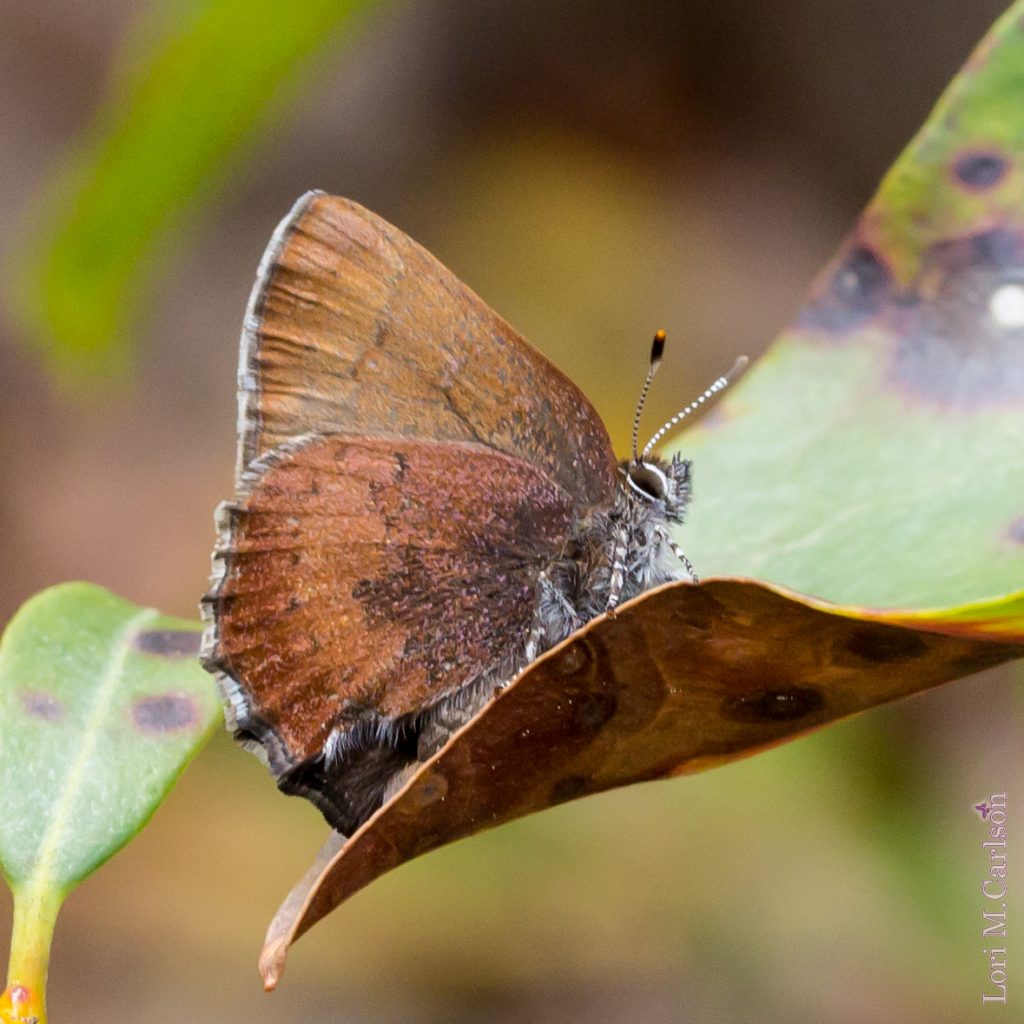 The Brown Elfin, Henry's Elfin, Juvenal's Duskywing, and Sleepy Duskywing are four LTO butterflies that can all be ob-served at Occoneechee Moutain in Hillsborough beginning in March, and if timed right—possibly all during the same visit.
Brown Elfins at Occoneechee Mountain are considered something of an anomaly by experts. The population is isolated from other colonies by about 100 miles, due to the result of changes in habitat caused by the last Ice Age.

The Elfins can be seen along the Brown Elfin Knob Trail near the top of the rise perching on laurel leaves and twigs. They are flighty, tend-ing to startle off when approached, but will land back near their point of takeoff. A patient photographer can be rewarded using a macro lens for a detailed capture. Less patient photographers will need to reply upon a good zoom lens. Binoculars are a good idea for a positive identification as these tiny butterflies can be tricky to distinguish with the unaided eye at a distance.

The Juvenal's is typically the first to be seen while walking the trail up the mountain toward the observation look-out. They will be resting on the gravel pathway, camouflaged quite nicely until they are startled by your approach. The Sleepy Duskywing can also be sighted in the park.

Brown Elfins can also be observed in the Triad area at Pilot Mountain around the same time as a visit to Occoneechee. In addition to observing the Brown Elfin, Juvenal's and Sleepy Duskywings during a visit, a butterflier can also see the Dreamy Duskywing, another LTO butterfly.