Wednesday Walk: Picture Creek Barrens
Wednesday, May 29, 2019 @ 11:00 am

-

3:00 pm

EDT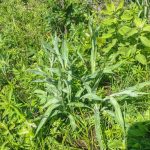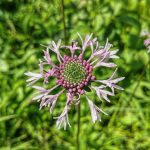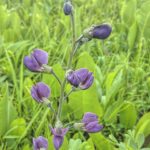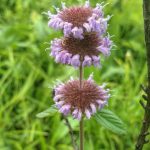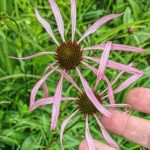 Left to Right: Rattlesnake master (Eryngium yuccifolium), Tall barbara's buttonns (Marshallia legrandii), False indigo (Baptisia australis), Downy wood mint (Blephilia ciliata), Smooth coneflower (Echinacea laevigata).
Meet up for this walk will be at the Butner McDonald's off of I-85N as the access location for this site has no address. We will be parked at the back of the lot and will not be inside the restaurant. We will then drive to the walk location from the restaurant. Note that the time of this walk is different from other Wednesday Walks. We will start at 11 AM.
This location has no trails, no amenities, and the restroom is standing or squatting behind a tree or shrub. We recommend that only those who have no mobility limitations or difficulties participate in this walk, and are comfortable with very rustic conditions. If you have any special need or concerns about joining us in this walk, please contact us. The lack of conveniences is well worth the extra effort required for this walk as not only does it provide an opportunity to see butterflies in situ, but it also is a protected area of genuine Piedmont Prairie. The landscape is populated with an amazing assortment of native plants, some of which can only be found in this location.
Butterfly species we expect to see include Juniper Hairstreaks, Coral Hairstreak, Great Spangled Fritillaries, Zebra Swallowtails, Common Buckeyes, American Ladies, and assorted grass skippers. Flora that should be in majestic, splendorous bloom at this time of year: Asclepias tuberosa, wild quinine, rattlesnake master, Baptisia autralis, downy wood mint, variegated milkweed, dogbane, smooth coneflower, golden alexander, and tall barbara's buttons.
We strongly recommend wearing a bug and tick repellent of at least 40% DEET as we will be walking through tall grasses. Finding ticks on your body after the walk is guaranteed! We will also suggest bringing with you beverages and a packed lunch. Binoculars are optional as we will be able to get fairly close to most butterflies. This walk is an excellent photo op for the flora as well as for the butterflies. The following video was taken on May 26, 2017 and is of a Zebra Swallowtail foraging on Asclepias tuberosa.