"I love moths as certain dark things are loved, secretly, between the shadow and the soul."
~ Paraphrase of quote by Stephanie Perkins
Greetings Fellow Moth-ers!


I hope this finds you well and in relatively good spirits. This month I can shamelessly express my love for moths, and you are welcomed to do so, too! Look for posts on our Facebook page that will extol the virtues and beauty of moths.


We will be closing our online plant shop on July 15th for the season. We will be back again next April with a new assortment of host and nectar plants, and of course we'll have all of the standard favorites such as native milkweeds. If there are host or nectar plants you would like for us to offer please contact us with your suggestions.


There's so much to say about the Lep-py goodness of moths. I hope to inspired you to join me for our annual Moth Night, or to hang your own sheet and light bulb to see what moths you can draw from your yard.


John and I will be conducting the NABA Orange County butterfly count next month. We could always use volunteers to walk designated areas to help count butterflies. If you are interested please contact us.



Why Both-er Being a Moth-er?
Love them or fear them (I hope mostly love them), moths are the "Dark Side" of the Order of Lepidoptera. About ninety percent or greater of all Leps are moths. This numerically translates into approximately 11,000 species of moths in the US compared to 750 butterflies. (If you can correctly identify all eleven thousand you can command Mothra to do your bidding.)


Both the caterpillar and adult are food sources for other critters. While some moths contribute to crop damage, others are essential pollinators. Moths serve as indicators regarding the health of the environment.


Some additional reasons to become a moth-er include:

You can observe moths in the comfort of your yard, porch, or other outdoor area. They come to you!
Moths stay still! This makes it really easy to photograph them for ID, or regale them with songs and stories.
Your observations contribute to scientific knowledge. Orange County has so far 771 species observed. This number keeps increasing as new species are recorded. Statewide the total number of species observed is 2830 (and counting).
It's a low cost hobby to get started. All you need is a light source, a white sheet, and a magnifying glass.
Click on image for full size
Moth vs. Butterfly: What's the Difference?
When learning about the differences between moths and butterflies it's best to be cautious about making absolute statements because both have species that are the exception to any rule.


Generally moths are nocturnal and butterflies are diurnal. Both have exceptional species. Commonly seen diurnal moths are the Ailanthus Webworm moth, Snowberry Clearwing, and the Hummingbird Clearwing. Many moth-like butterflies in the Hedylidae family are nocturnal.



Both moths and butterflies have representation ranging from drab to colorful.


Unclubbed vs. clubbed antennae
Generally moths have feathery, unclubbed antennae, such as the Luna. Some moths have filamentous, unclubbed antennae, like the Clearwing hummingbird moths. Castnioidea

moths have clubbed antennae.
I've not been able to find any exceptional butterflies that have feathery or unclubbed antennae.
Linked vs. unlinked wings
Moths generally have a frenulum that links the fore and hindwings together. Butterflies typically lack this wing coupling structure.


Many moth species only feed as caterpillars. During the adult stage of the life cycle the moth cannot feed because it lacks mouth parts. These moths have a lifespan of about 7-10 days and exist in the adult form for the sole purpose of mating.


I have not been able to find any examples of butterflies that do not feed in the adult stage or lack mouth parts.
Drawing moths to a collecting sheet can be as simple or as extravagant as your budget allows. There are a few things to consider that will make moth-ing a little easier.
It's Time to Light the Lights!
Moths are drawn to short wavelengths of light. Think back to physics class for a moment. Shorter wavelengths can be found in the blue to UV light range. A good UV light or any light that produces a blueish color will work very well at drawing moths to a collecting sheet.
Moths do not respond to yellow light so do not use for moth-ing purposes. However, some moths do respond to infrared light.
Click for full image size
Now That's a Lightbulb!
The lighting set-up at Backyard Butterflies consists of a 24 inch 40-watt UV light, and I cycle using a 160-watt mercury vapor bulb and a 400-watt metal halide Plantmax Sky Blue bulb.


The 400-watt light requires a ballast for use which John assembled using this DIY for an MV light as a guide.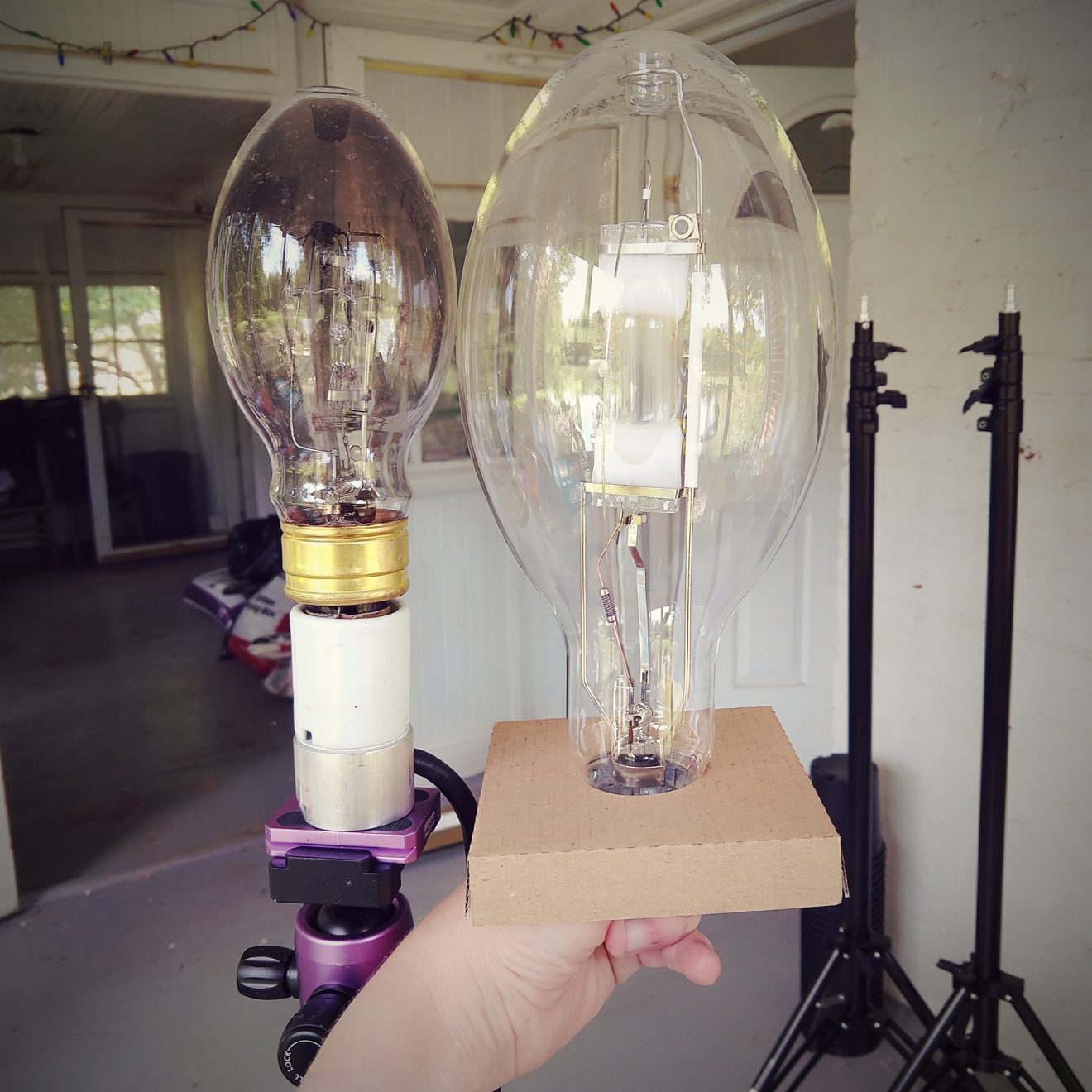 The MV bulb (left) can be purchased at Leptraps.com. Leroy is very friendly and helpful. The Plantmax bulb (right) was purchased on Amazon.com.
The Collecting Sheet
The cheapest white flat bed sheet that you can purchase is the best collecting sheet to use. There are fancy collecting sheets that can be purchased but know that you'll want a sheet that can be easily washed and dried. Yes, the sheet somehow gets stained!


If you have trees to string up a clothing line or rope then hanging the collecting sheet will be easy. I opted to purchase a photographer's background stand because it's portable and can be adjusted in width and height. I also have a PVC frame that can be positioned in place with two rods of rebar to anchor the frame. My frames are shown in the photo below: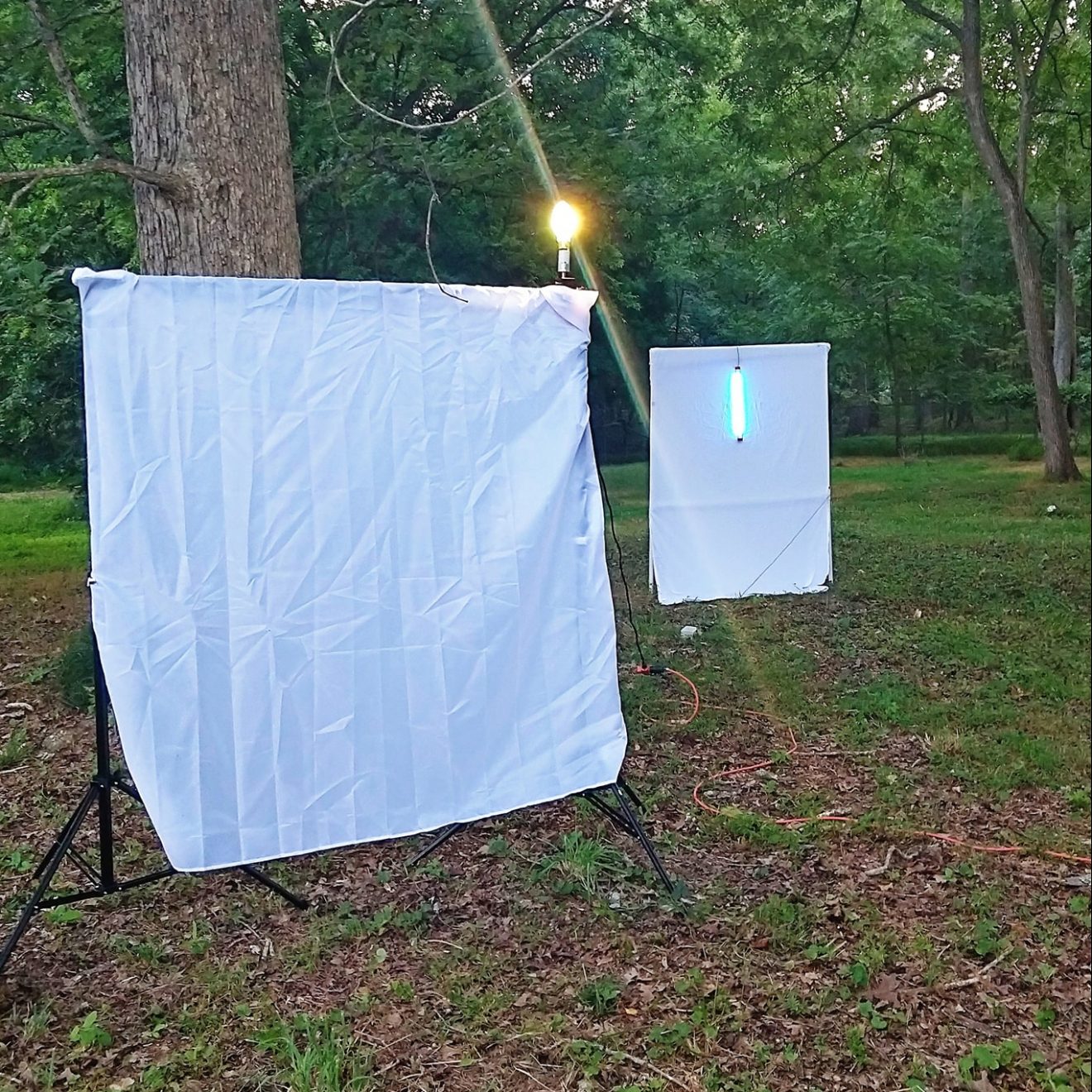 The mercury vapor (MV) bulb can be mounted on a standard photography tripod. I purchased a special lighting mount for the metal halide (MH) bulb to be mounted above the line of sight because even an accidental gaze into the bulb will cause a few minutes worth of retinal after-image or outright blindness. It is 400 watts of photon exquisiteness!


With all lights that I use it is a good idea to wear UV light protection and to use sunscreen.
Identifying Moths
Camera: I'm Ready for My Close-up
Many of the moths that will come to the sheet are very tiny. As in measured in millimeters tiny. In order to see details you will want to have a camera capable of macro photography.


I use a five year old Canon Rebel T5i with a 60 mm macro lens with a reasonably priced ring light flash. Using a tripod isn't practical because the moths are located all over the span of the sheet and they remain still enough to capture a clear, crisp image at 1/200 sec that is limited by the ring flash.


On an average moth-ing night I will take anywhere from 100 to 500 photos.
And...Action!
I have had good moth-ing during the hours of 9:00 pm to around 2:00 am on those nights I can manage to stay awake with the aid of a Netflix show to binge-watch. I will periodically visit the sheet between episodes to see who is new to the sheet. I will spend about 30-45 minutes photographing all of the interesting visitors and I will check around the bushes, plants and shrubs to see who is lurking about in the shadows.


Often there are more than just moths who are drawn to the sheet. I have had wolf spiders, praying mantis, bald-faced hornets, dobson flies, cicadas, butterflies, and ailanthus webworm moths visit the sheets. I'm convinced that ailanthus webworm moths never sleep and suffer from chronic insomnia.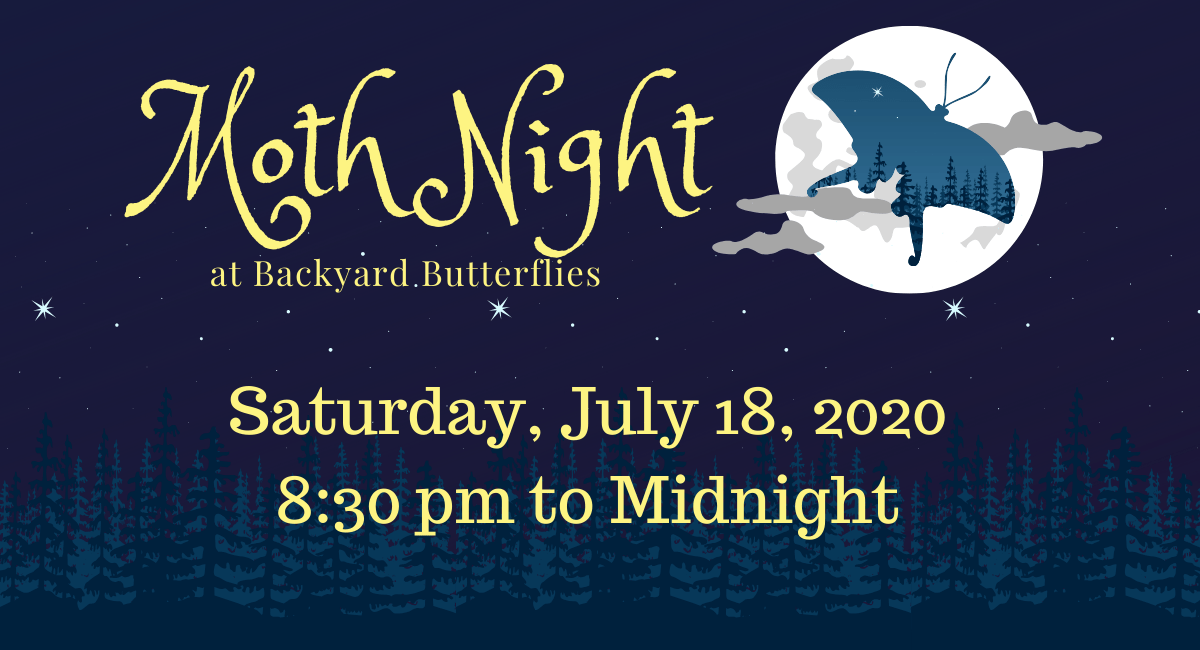 Click on the button below to learn more about this event.
Last Day to Buy Plants: July 15th
reader, we appreciate all of the patronage and support you gave us this spring to help us fulfill our missions and to keep our organization operating this year!


We will be closing out our plant sales for 2020 on July 15. All remaining stock has been marked down to $1.00 per plant. All orders under $100 must be by local pick-up only. To see what plants are available use this link or apply the "On Sale" filter on our online shop.
Plants in need of forever homes:
Common Milkweed
Butterfly Weed
Rudbeckia laciniata
Cup Plant
Anise Hyssop
Short-toothed Mountain Mint
Lemon Beebalm
New England Aster
Wingstem
NABA Butterfly Counts
All skill levels and ages 13+ are welcome to participate in NABA butterfly counts. Next month's newsletter will be dedicated to NABA counts and how you can be a citizen scientist!
Sunday, August 9, 2020
Contact: Backyard Butterflies
Sunday, August 16, 2020
$3 participant fee applies
Hanging Rock State Park Count
Wednesday, August 19 2020
Mayo River State Park Count
Thursday, August 20, 2020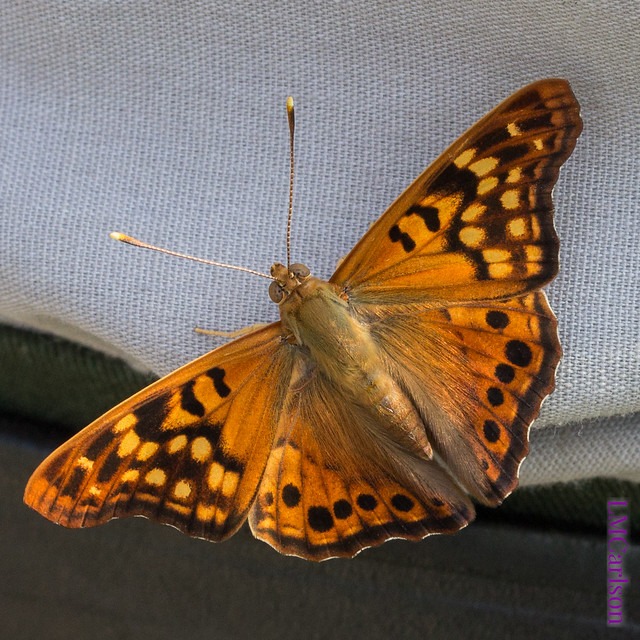 Tawny Emperor takes a ride on Brian Bockhahn during the 2019 Mayo River SP Count
Pilot Mountain State Park Count
Tuesday, August 25, 2020
What You Missed at the NABA Count!
Not everything seen on a NABA butterfly count is a butterfly. We had the pleasure of observing this cottonmouth snake at the Weymouth Woods count. Since no one in our group identified as a Parselmouth I assume the snake was telling us to stay out of its pond.
We offer Caterpillar Support to those who are in need of host plants, foster care, or adoption of caterpillars.


There are 18 species of caterpillar that we can provide the host plant for, and we can also provide host plants for some species of moths.


This program is free of charge. All you need to do is apply letting us know what host plants you need, or if you need us to foster care or adopt your caterpillars.


Plant Pots Return Request
We appreciate the return of pots for re-use if you happen to be passing by our way. No need to contact us, just drop them off on our porch.